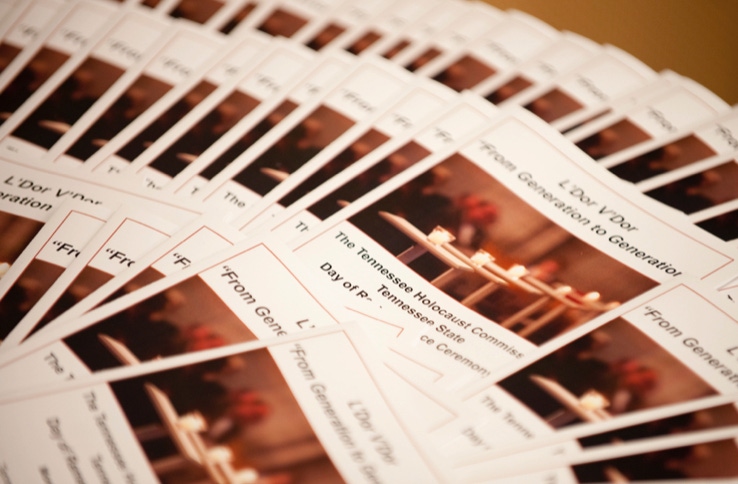 The mission of the Tennessee Holocaust Commission is to educate Tennesseans about the history of the Holocaust, seeking to remind citizens that prejudice, hatred and violence, as manifested in the Holocaust and other genocides, leads to the destruction of a humane society.
One of the oldest and most recognized commissions in the U.S., the Tennessee Holocaust Commission was created in 1984 by an act of the state legislature with the purpose of educating others about and commemorating the Holocaust. In 1996, new legislation recreated the commission to recognize its primary role as education and to create a parallel not-for-profit body. This agency's Commissioners, appointed by the governor, function as part of the commission as a whole.
The commission provides a variety of educational services and opportunities, including the creation and implementation of resources, workshops, conferences, exhibits, learning and in-service seminars as well as publications for the educational and general community. It has facilitated primary educator learning opportunities for study in Washington D.C. and Europe. Each year, the commission supports annual Days of Remembrance across the state, including an observance on the Capitol grounds.
The THC was recently recognized internationally when Chair Felicia Anchor represented the U.S. at the Stockholm International Forum on the Holocaust conference. The Commission's acclaimed "Living On" exhibit was displayed during this forum at the Academy of Fine Arts in Warsaw, Poland and the Auschwitz Concentration Camp Visitor Center.
Over the years, the commission has published two books: "The Holocaust and Other Genocides: History, Representation, Ethics" and "Living On: Portraits of Tennessee Survivors and Liberators."
Support for the THC comes from a state appropriation matched, in part, by funds raised privately. Donations are tax deductible.