The Mira Kimmelman 'Learning from the Holocaust' Contest 2023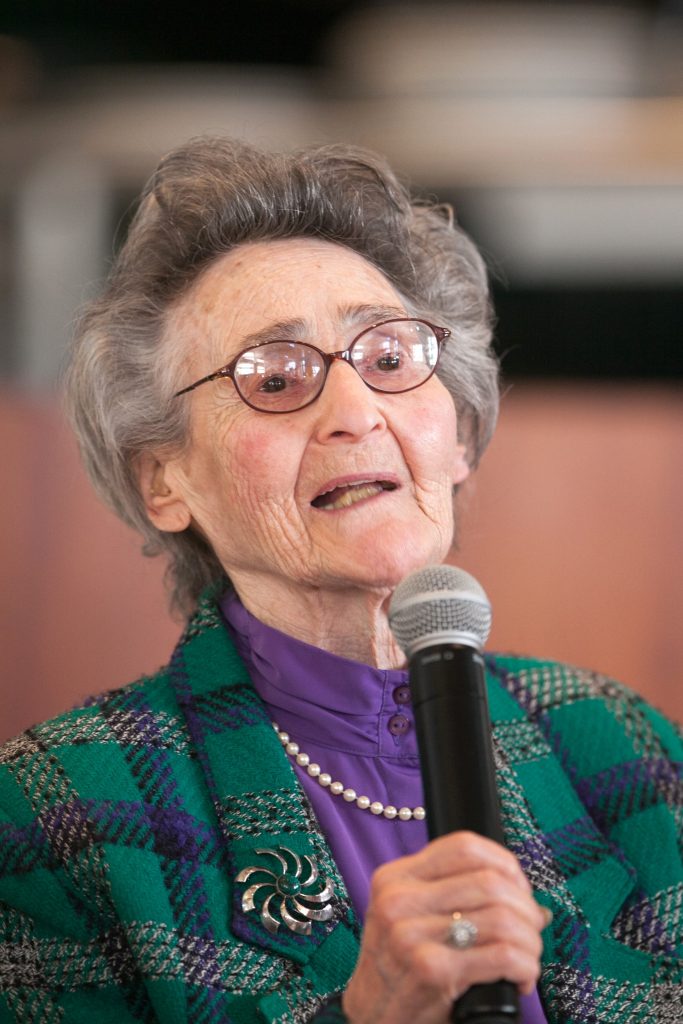 Mira Kimmelman (1923-2019) was a Woman of Valor.
A Holocaust survivor who endured not only incarceration in Auschwitz, but a deadly and horrific death march to Bergen-Belsen, she turned to volunteering and education after coming to the United States. For over fifty years, she dedicated herself to the Jewish communities of Tennessee and Holocaust education efforts around the state. A twice-published author, she raised her voice in the hope that continuing education and remembrance of this atrocity would ensure that no one should suffer such atrocities ever again.
Mira Kimmelman challenged students to reflect upon the history of the Holocaust and contemporary examples of injustice for over fifty years. The contest continues her work and legacy, asking Tennessee students to create projects that reflect how the lessons of the Holocaust are relevant to current events and their own lives. The contest has both middle school and high school entry options, all of which prompt students to reflect on the lessons learned through the study of Holocaust history.
The winner of the High School Essay contest receives a prize of $750,
with the first runner up receiving $500 and the second runner up receiving $250.
The winner of the Middle School Essay contest receives a prize of $500,
with the first runner up receiving $300 and the second runner up receiving $150.
The winner of the Middle School Project contest receives a prize of $500,
with the first runner up receiving $300 and the second runner up receiving $150.
Middle School students should submit:
• One paragraph summary of a completed project that reflects on the lessons of the Holocaust, with appropriate documentation. (Examples include a website, table top exhibit, performance with accompanying script, a webquest, a monument design, a series of commemorative historical markers, etc.) OR
• A visual art project that memorializes the Holocaust, with appropriate documentation OR
• A 2-3 page essay that analyzes and reflects on Mira Kimmelman's story and message, with appropriate documentation
In addition to a completed application
High School students should submit:
• A 4-6 page essay that responds to the prompt below, with appropriate documentation
In addition to a completed application.
Type should be size 12, Times New Roman, double spaced.
High School Prompt
"In spite of all the evil and cruel experiences, I also saw the goodness of people. Friends and relatives were saved by Poles, Germans, French, and Dutch. Some of the rescuers were uneducated peasants, some were educated people, but all listened to their hearts even when they put themselves in danger. They risked their lives to save Jews from a certain death. These selfless and courageous people, regardless of nationality or religion, were the unsung heroes of the Holocaust years.
The tragic facts cannot be denied. This memoir has been written amidst many tears, sleepless nights, and agonizing moments. It is a memorial to those who were killed. My children and their children will become the guardians of these memories. If future generations fail to protect the truth, it vanishes. By keeping memories alive, by fighting those who deny the Holocaust, we fulfill the duty to remember.
The Holocaust is a lesson in human (and inhuman) history that took place because of hate, bigotry, indifference- all characteristics that know no bounds. These traits spread like wildfire. If we remain indifferent to human suffering, it can happen again; it can happen here, and who knows who the next victims will be? Only by remembering the bitter lesson of Hitler's legacy can we hope it will never be repeated. Teach it, tell it, read it". (Mira Kimmelman, Echoes from the Holocaust). 
How did Mira Kimmelman's experiences in the Holocaust affect her world view, and how can one embody her message when faced with contemporary instances of injustice?
FAQs
Who is allowed to submit an application?

Middle or high school students of any school located in Tennessee.

Are college students allowed to submit applications?

Only if they are dual enrollment high school students.

Are home schooled students allowed to submit?

Yes, as long as they are in the associated grade levels and submit in the proper contest.

When should I submit materials?

Please send all application materials in one email to tnholcom@tnholcom.org before June 1st.

What does 'appropriate documentation' mean?

Projects should be documented in their entirety, including a bibliography, photographs or videos, etc.
Please include everything needed to accurately assess the process and product of the project.

Are groups allowed to submit projects together?

Groups are allowed to submit collaborative projects for the Middle School contest, with up to four participants.
Groups are not allowed to submit collaborative essays for the middle or high school essay prompts.
An application must be submitted for each participant.  Prize money will be shared equally among members of the group.

How will projects be judged?

A selection committee, including Kimmelman family members, will appraise the essays and projects according to the following rubrics attached below.
Please direct all questions to tnholcom@tnholcom.org.
Materials should be sent in an email to the above address with the subject line 'Kimmelman (Last Name)'.
The deadline for submissions is June 1, 2023.
2022 Winners
High School 
Alysa Estes
Yeram Kim
Middle School Essay
Marly Ezzat
Middle School Project
Logan Riley Bowman, Paige Lawing, Lance Lyons, James Phillips
Samantha Jackson
Honorable Mention
Cole Henry, Lilly Faye Kraemer, & Josephene Warren