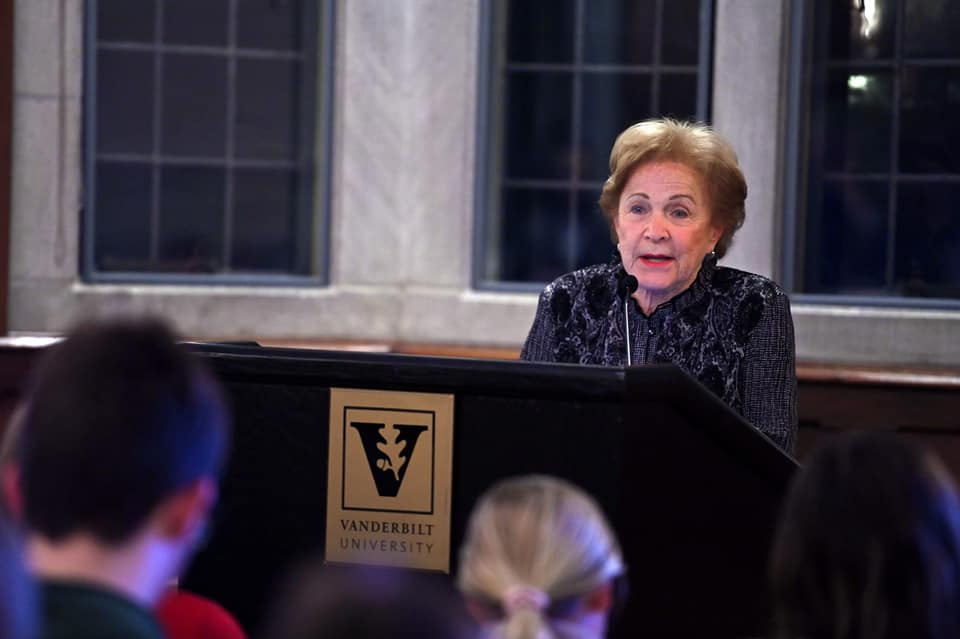 The best way to understand and absorb the historic events of the Holocaust is to hear them firsthand, from someone who experienced it or from someone who is the child of a survivor, liberator, or witness. The Tennessee Holocaust Commission Speakers Bureau is passionate about making every attempt to provide every Tennessean with this meaningful experience.
Please notify us a minimum of 30 days in advance when requesting a speaker. This time is necessary to make all required arrangements. Additionally, please keep in mind that some of our speakers are older and may require accommodations.
Frequently Asked Questions
Our speakers are survivors, liberators, and witnesses of the Holocaust who now reside in Tennessee, or their descendants who have trained to be stewards of their families' stories.
Anyone; we are more than happy to arrange a speaker for any organization or group and any number of people. You do not need to be located in Tennessee and do not need to be affiliated with a formal organization. We are passionate about increasing access to these stories and would like to do all we can to arrange a speaking arrangement for you and your group.
Please fill out the speaker request form above. We request that you provide us with at least 30 days' notice so that we may make appropriate arrangements with speakers.
Speaker events are free, although organizations that are able to contribute an honorarium are encouraged to do so. Donations play a significant role in funding the programs of the Tennessee Holocaust Commission. You can donate here or mail it to P.O. Box 59252 Nashville, TN 37205.
Reference our Survivors' Archive; this digital version of our Living On exhibit has the testimonies, artifacts, timelines, etc. of our survivors. Most speakers are either featured on the website, or the descendant of a featured survivor. This website has not only their testimonies and associated materials, but also features curriculum that is specifically designed to connect the speakers' story to Tennessee state standards of education.
We are more than happy to link survivors and speakers with students and family members doing relevant research! Please email tnholcom@tnholcom.org with information on the project, any affiliated institution, and the names of any speakers you are particularly interested in speaking with.
Contact us as quickly as possible. We understand if things must be rearranged, but the speaker you requested might have to cancel due to scheduling. If a cancellation is made, we will try our best to find you another speaker.
We respect our speakers' privacy and therefore do not display this information on our website. To get in touch with a speaker or survivor, please contact the commission by emailing tnholcom@tnholcom.org.