Remembering Founding Commissioner Jimmy Gentry.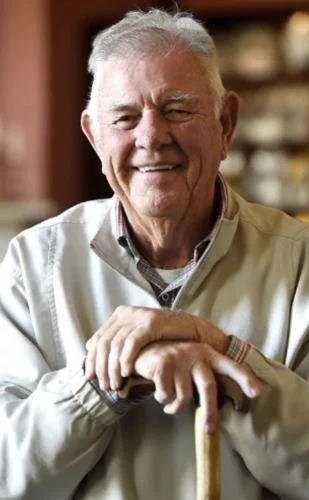 The Tennessee Holocaust Commission mourns the loss of our dear friend and founding member of the Commission, James (Jimmy) Cannon Gentry, who passed away on Thursday, April 21, 2022 at the age of 96. Jimmy was a loving husband, father, grandfather, great-grandfather, uncle and friend to countless loved ones.
Jimmy was born in Wyatt Hall on November 28, 1925 and was the seventh of eight children. After losing his brother David in World War II, he entered the war as a private in the army and served in the 42nd Division, known as the Rainbow Division, on the European front and was a Liberator at the concentration camp Dachau. In fact, Jimmy was one of the first GI's to walk through the gates of Dachau and never forgot the searing images of the brutalized inmates. His work on the Commission was in part an effort to educate future generations about the atrocities committed as a result of bigotry and tyranny.
Following the war, Jimmy came back to Franklin and married his high school sweetheart, Rebecca Channell, and they had three sons.
Soon after graduating from Peabody College, he started teaching and coaching at Franklin High School. In the early 1960's, he moved to Battle Ground Academy to teach biology and coach football. His career as a teacher and coach culminated with his work at Brentwood Academy teaching Tennessee History and coaching football until 1998.
Coach Gentry was a prolific and inspiring speaker for the Tennessee Holocaust Commission in addition to his work as a Commissioner. During his retirement, Jimmy enjoyed speaking to groups all over the country, telling of his WW II experiences. He spoke at many programs with the Tennessee Holocaust Commission in schools throughout the state. In his own words, Jimmy reflected on his experience with those in Dachau, "I think it teaches me and I hope that everybody should know this, to appreciate everybody and respect everybody. It doesn't make a difference what ethnic group they are, what color they are. You must appreciate and respect people. Then in turn, they will appreciate and respect you, then we can get along a lot better."
We will be forever thankful for the friendship of Coach Gentry and that so many were touched by his eyewitness accounts of the atrocities of the concentration camps.
Although Jimmy was known to most as "Coach," to us at The Tennessee Holocaust Commission, he will always be remembered as our friend.
Love and strength to his sons Allen (Cindy) Gentry and Scott (Melanie) Gentry, his grandchildren and great-grandchildren. May his memory forever be a blessing to all that knew him and may he rest in peace.